/
Almond Chocolate Chip Cookies | Aka the Yummiest Cookies Ever
a fan favorite!
When I was in high school we got out early every Monday. We'd usually fill our extra hours hanging out with friends and my mom wanted to provide a healthy space for all of us to gather started up Cookie Day.
She made a huge batch of cookies every week and issued an open invitation to all the neighborhood kids and friends. That's a lot of cookies! And you had better not be late because they were completely devoured within a matter of minutes.
These Almond Chocolate Chip Cookies were a fan favorite for one simple reason, they are delicious!
I even served them at my wedding reception because YUMM!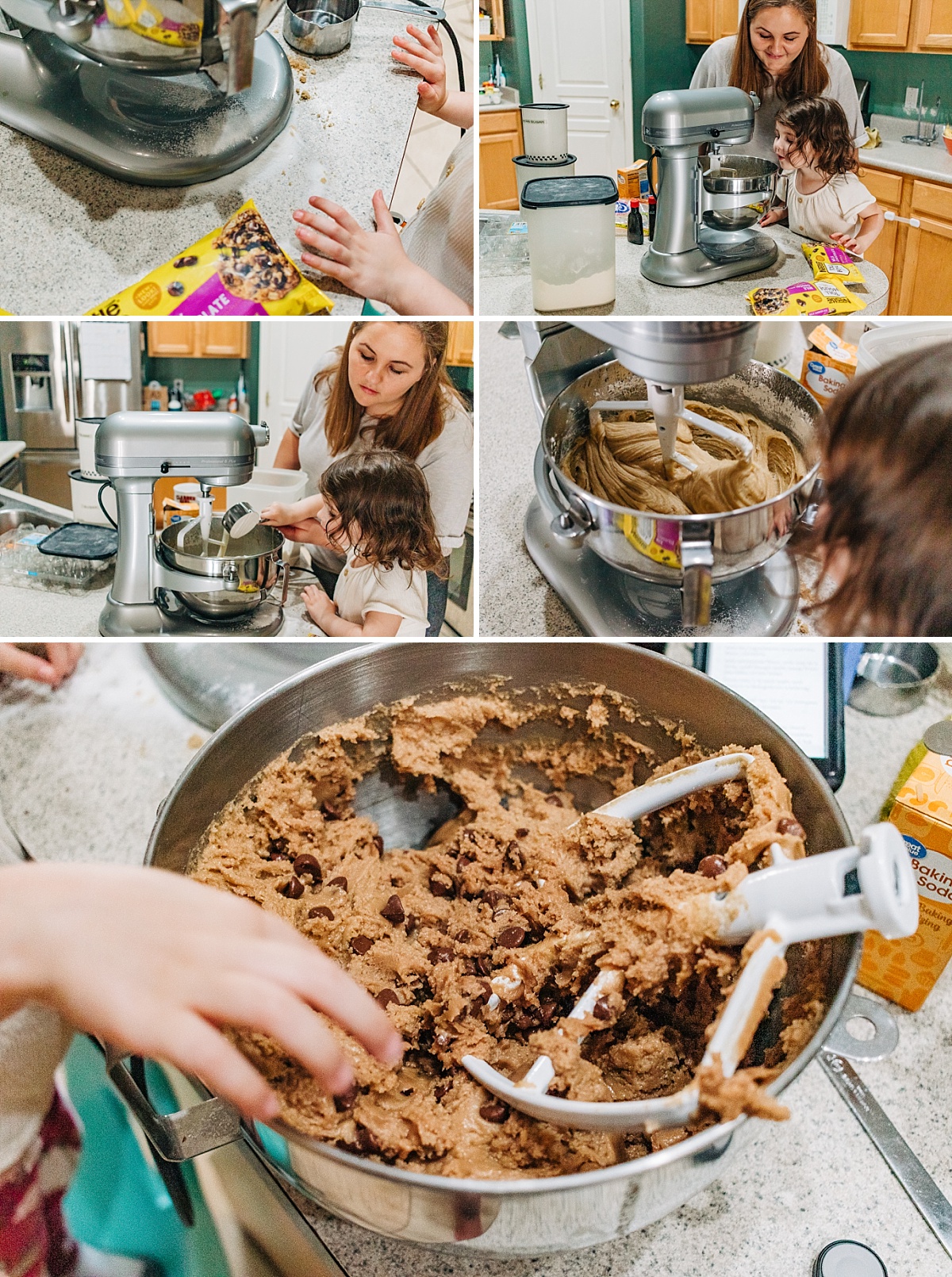 So easy!… as long as you've got the right recipe.
You know those family recipes that never taste as good as when mom makes them?
This is one of those recipes. I'd try so hard but my cookies would always come out chalky. They tasted okay but the texture was so bad! This always drove be crazy because the ooey-gooey texture of these cookies is part of what makes them so good!
I didn't fret about it too much until I wanted to make them with Emi, you know, pass down the secret almond chocolate chip cookie recipe.
Even though I had my mom on the phone to walk me through it we still couldn't figure out what I was doing wrong.
Since we were visiting the next month I made her promise she'd make them with me while we were there so I could learn the ooey-gooey secret.
Turns out it was a pretty simple fix…. the copy of the recipe I had been given was wrong. It was missing the 3/4 cup of both sugars! Turns out that matters.
Once we got that sorted out the cookies came out perfect every time! I also learned some helpful tricks like melting the butter and adding the chocolate chips before adjusting the flour.
A new family tradition
This last week I was finally able to start a new tradition with Emi and we made Grandma's cookies together.
They were made with love, which definitely means she licked the spoon and we kept using it, and I think she may have added a little extra brown sugar in her excitement but we had so much fun!
I hope you enjoy these as much as I do because I'm totally obsessed. I can't help but eat a whole batch myself and they're even better with ice cream!
Bon appétit!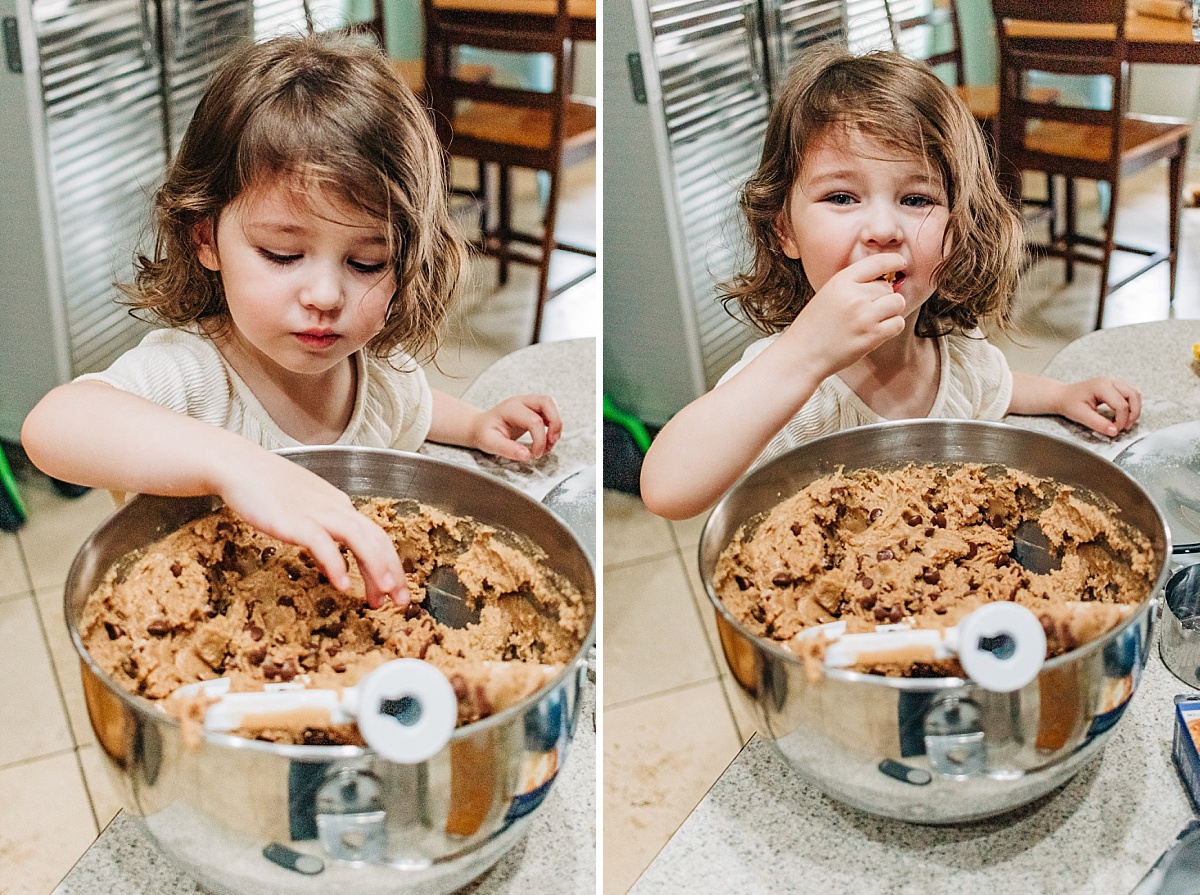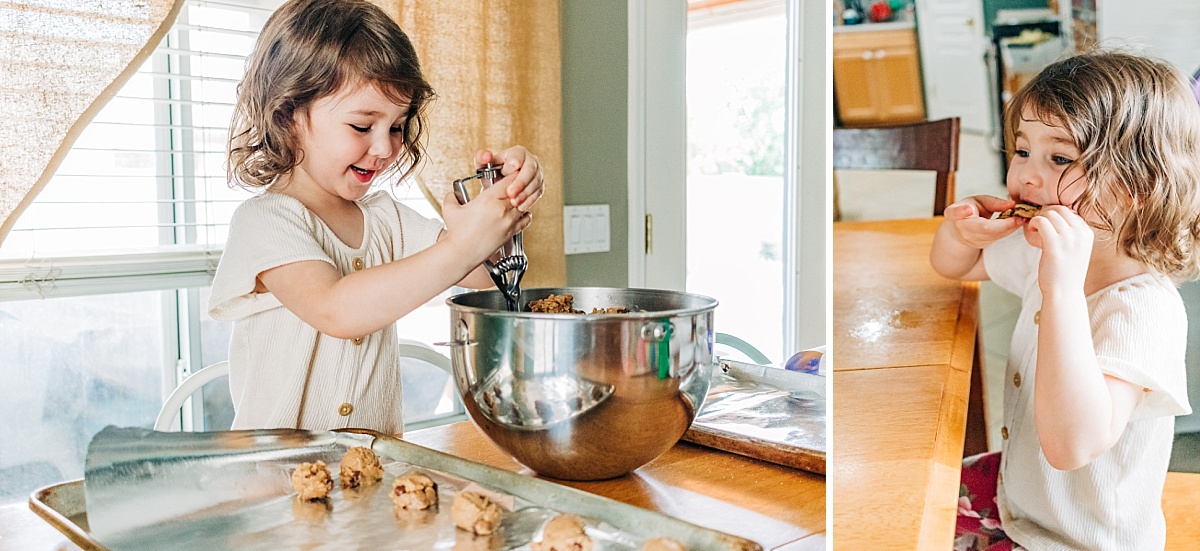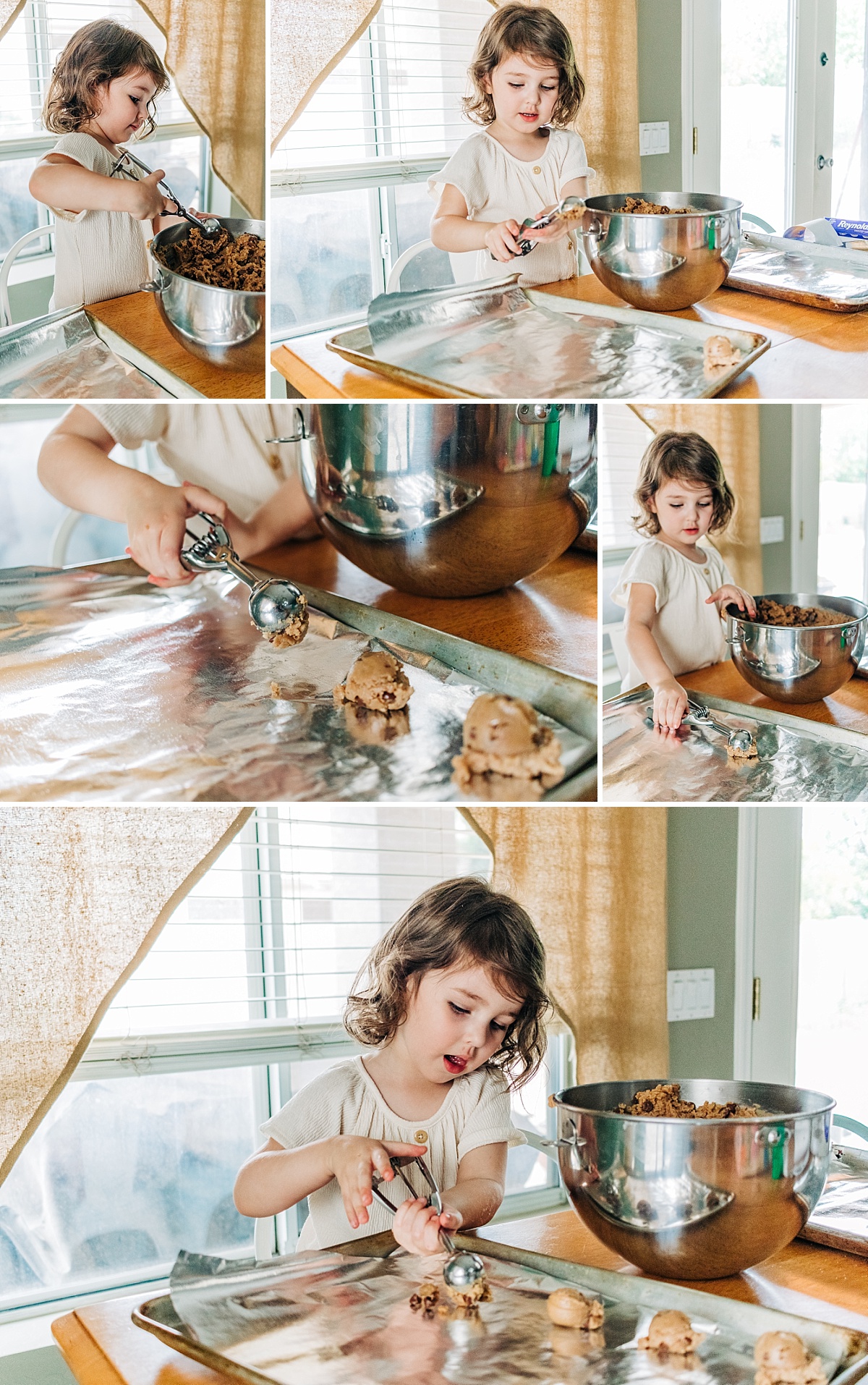 ALMOND CHOCOLATE CHIP COOKIES | AKA THE YUMMIEST COOKIES EVER
Course: Dessert
Cuisine: American
Difficulty: Easy
I served these cookies at my wedding I love them that much! They stay soft a gooey for days and make the yummiest ice cream sandwiches!
Ingredients
Cream Together

1 lb Butter, mostly melted

1 3/4 cups brown sugar

1 3/4 cups sugar

4 eggs, add one at a time

2 tsps vanilla extract

1 1/2 tsps almond extract

Dry Ingredients

2 tsps baking soda

2 tsps baking powder

5 1/2 – 6 cups flour

Chocolate Chips

12 oz white chocolate chips

12 oz milk chocolate chips
Directions
Cream together butter, sugars, eggs, vanilla and almond extract.
Add dry ingredients and half the flour, combine.
Add additional flour, half cup at a time, until dough pulls away from the sides of the bowl.
Roll into balls, about 1/8 cup per ball, and place on lightly greased cookie sheet, 12 to a sheet.
Bake at 350° for 10 to 12 minutes or until lightly brown.